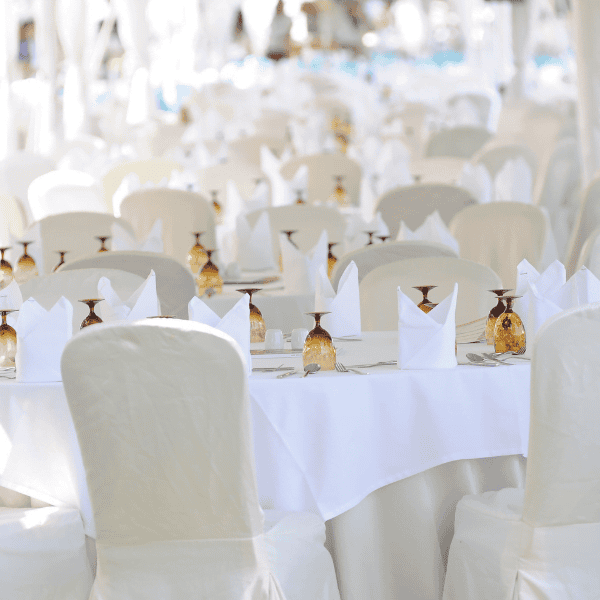 There really is no place like the greater Tampa area to host your special day. But there's a lot more to a wedding than venue and location alone, and while you may have dreamt about the dress you'll wear, the bouquet you'll throw, and the cake you'll cut, it's unlikely you're as excited about the costs.
Since it's unlikely you'll need hundreds of candle holders and table linens after your reception ends, this is where a wedding rental service can help. To help you find the right Tampa wedding rental service, Gabro Event Services has written this short but sweet guide to choose the right service for you.
Look For Everything You Need In One Place
Just because you need a variety of different rental items doesn't mean you need to source them from different rental agencies. From tents and concessions to lighting, to flatware, linens, entertainment solutions, and more, a good vendor can provide everything you need from a single wedding rental catalog, all in a one-stop-shop. By choosing this path, you'll save yourself both time and money on the backend, guaranteed.
Be Sure They Rent Quality Equipment
Beyond having everything you need in one place, a good Tampa wedding rental service will be able to guarantee the quality and integrity of the items they rent. They should have access to proper means of both storing and cleaning all equipment after each use. They should also have a return policy to replace any partially broken or damaged inventory as soon as possible. Ideally, your chosen vendor should have a showroom that allows you to personally inspect the equipment to make sure upkeep standards are met.
Check To See If They Provide Full Services
A Tampa wedding rental company worth its salt should do more than just rent gear and equipment一they should offer a full range of services, including delivery, set-up, tear-down and pick-up. This means arriving on-site prepared with the proper team to coordinate operations before, the day-of, and after the event has ended.
Make Sure They Understand Your Personal Needs
As crucial as anything else, you want to make sure that you choose a rental vendor that makes you feel comfortable. For example, while large corporate vendors may boast diverse catalogues and enticing prices, it's unlikely that they have the interest or expertise to offer out-of-the-box ideas and motifs that are custom-tailored to your vision. This is where going for a vendor that offers personalized service really shines.
Let Gabro Make Your Dream Day a Reality
If you're planning an event or in need of a wedding rental service in Tampa, Gabro Event Services is here to help. We know that your story is what counts, which is why we make it ours from the moment you walk into our offices. So let us guide you toward a fun, stress-free event that your guests won't ever forget. Get started by browsing our rental catalogue, or contact us today to set up a consultation!